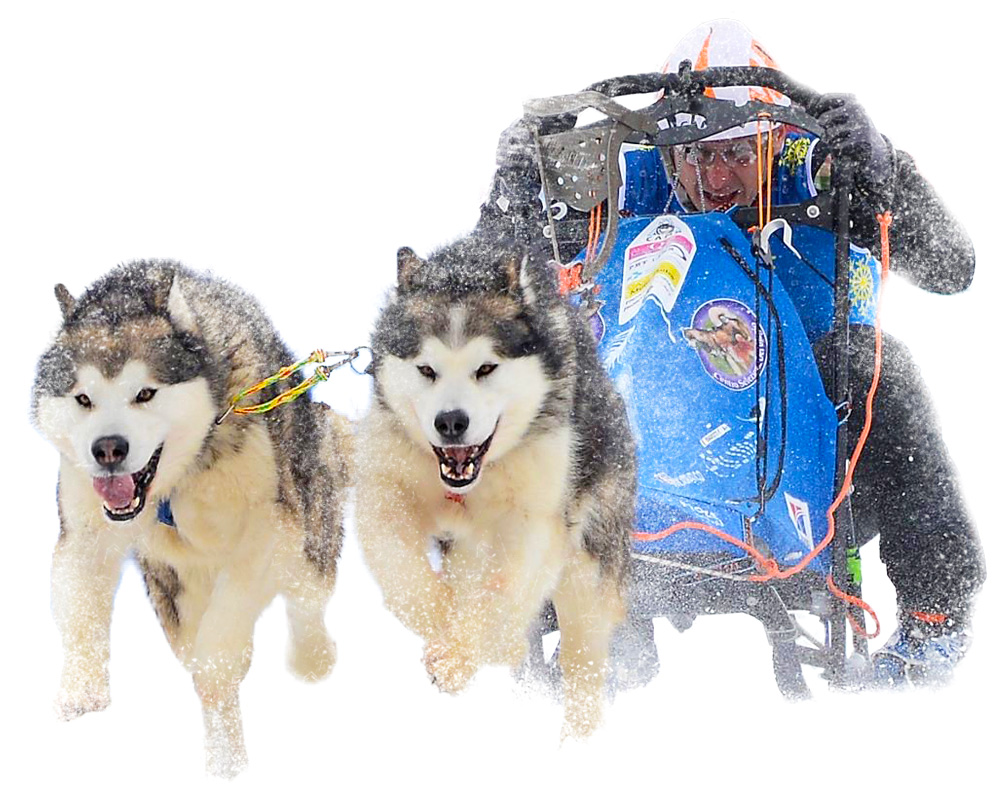 The Biagio Selection Center has always been represented by a team of Alaskan Malamutes, followed and trained exclusively by people who like to practice this sport, so characteristic for this breed.
Initially they were Rita Figini with two dogs and Giovanni Pandolfi with six, since then accompanied by the curiosity of our Francesco Biagiotti, since he was only 7 years old. Later, Giorgio Pirini also joined our team with a pack of six Alaskan Malamutes.
Nowadays the Del Biagio Team is officially represented by Francesco, who after a long experience with two dogs has decided to try his hand at adventure with a six-pack!
Our "mushers" have traveled around Europe to participate in important Sleddog competitions such as the World and European Championships, achieving excellent results.
THE EXPERIENCES:


GIORGIO PIRINI THE MUSHER FROM CREMONA
I got a red-white ALASKAN MALAMUTE puppy because I was struck by this breed of imposing structure with that authoritarian attitude. 
Now, at the age of 40, sports lover, I started racing with Kinos, this was his name, on foot with a harness or with a bike.
The step to then practice sleddog was short thanks to the generosity of GIUSEPPE BIAGIOTTI 
who provided his specific equipment, selected team of his beautiful dogs and I bought my first sled.
We participated for 9 years from 2000 to 2009 in all the Italian Championships for northern breeds in the category C2, B2 for non-fast working dogs, because it is known that the Malamute regularly runs in the competition, but without reaching high speeds because of it's structure, characteristics and his real nature. What matters is seeing the team working smoothly.
We participated in international events such as the World Championships for the purebred in Annaberg (A), the European Championship of Kraniska Gora (SLO), Donovaly (CZ) and in Italy in the splendid Auronzo di Cadore track. 
At these competitions we have achieved excellent results considering that all the participants are super Mushers organized with selected teams.
THE PRESENT AND THE FUTURE:


FRANCESCO BIAGIOTTI AND HIS TEAM
From an early age I grew up surrounded by the Alaskan Malamutes and developed a passion for sledding. 
I had the opportunity and the pleasure of following in the footsteps of the two people who at that time started the story of our Sleddog Team: Rita Figini and Giovanni Pandolfi.
Later, after taking a break from this sport, due to the school and other interests, I heard again the call of the Sleddog. In fact, in 2015, organizing an event that is now traditional for us, the Alaskan Malamute Sleddog Day, I found a special feeling with two Malamutes: Chessy & Alcan Silent Knight by Biagio.
I found in them a great aptitude for work, and this has awakened in me the desire to confront myself again in the sleddog competitions.
So, having joined the Antartica Sleddog Club, I started competing in competitions both at National and European level, achieving excellent results.
I owe all my successes to my fellow adventurers who made me and make me grow, with whom I shared many experiences, travels, new friendships, tears of joy but also disappointments, which are always part of the game: my Alaskan Malamute - Frozen & Alcan Silent Knight by Biagio.
The most important results obtained on the snow are: a fourth place in Sweden at Sveg in 2018, and a third place in Germany at Haidmuhle 2019, during the WSA World Championships "World Sleddog Association", a championship reserved for pure Northern Breeds in category 2 Dog2 ( category that also includes Groenland and Samoyed). We also managed to win 3 Italian titles on snow and reach 2 second places in the 2dog scooter category, 
we are pleased to recall that due to lack of participants we had to confront the Siberian Husky teams, lighter and faster dogs, which pull up the level of our ambitions.
In 2018 I decided to raise 6 puppies, puppies from my beloved Alcan, training them to increase the pack and thus be able to compete in more categories.
With my team we have made many sled experiences, lots of races and endless training ... but the experience that I have in the deep of my heart is the one I lived with the "Make a Wish" association, which deals with children with rare terminal diseases that contacted us to realize the dream of a little girl who wanted to take a ride with a sled pulled by dogs.
It was a unique emotion, so indelible that I left a particular memory in my heart; unfortunately the girl passed away, but those moments of joy shared with her will remain forever in my heart.
FRANCESCO BIAGIOTTI & HIS TEAM OF
ALASKAN MALAMUTE
AT THE SLEDDOG WORLD CHAMPIONSHIP AT SCHARNITZ IN AUSTRIA



Francesco: My musher story started at the age of 8, being the son of an Alaskan Malamute breeder. At the time there were a couple running with our dogs: Giovanni Pandolfi and Rita Figini. I went with them to all the competitions in which they participated: Italian, European and World Championship. I personally participated in two, one on snow in Castelluccio di Norcia with two dogs, and other with a mountain bike and a dog. After a few years Rita & Giovanni at the time stopped running and I was too young to go on alone. Years go by, I finished my studies and started working. I spent a few years working outside the home, until I decided it was time to return to work in the kennels with my family where I cultivate the passion I carry inside as a child to drive my dogs on snow and dirt ". Most of my time at work, I dedicate it to training our dogs.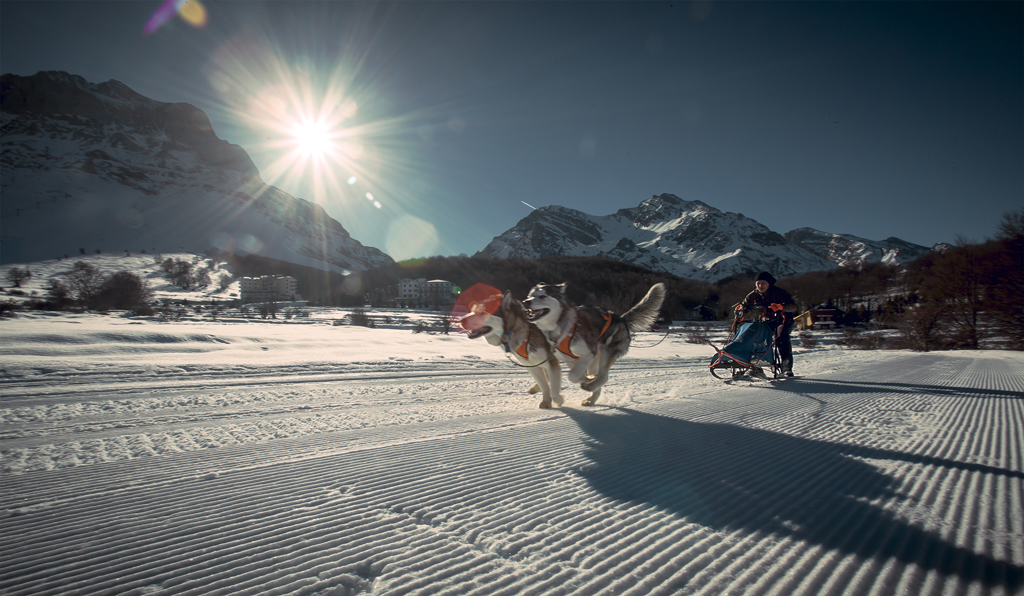 What kind of relationship is established between Musher and its dogs team?

Francesco: The relation that develops between muscher and it's sleddog team is an agreement made up of small gestures and looks, emotional complicity and perfect harmony. All this is what since 2013 I have established, since the first releases in training, with two of our dogs, Alcan Silent Kinght Del Biagio and Chessie Del Biagio. With them I rediscovered the emotions of being part of a united group and working in unison to achieve a single goal.


How long have you been practicing Sleddog and what brought you to participate in the Polar Distance/ World Sleddog Championships in Scharnitz?


Francesco: I did the first tests as a child. Then in 2014, I wanted to test myself. I met one of the most veteran Italian mushers and great person Fabrizio Filoni. Thanks to him I started to take an interest in competitions, asking him the opportunity to join and try the breeze to take part in one. He organized one in Campo Felice, but due to lack of snow the race was not disputed. Time passed and I found myself participating as a collaborator in the XI Malamute Sleddog Day at Alpe Giumello even though in truth I have been collaborating in this organization for some time. As always, the event was extremely successful, both for the Malamutes and for the people. I returned home more heavily than before with Filoni and the racing world in the lead. I was still finishing up the material from the return of Malamute Day and I say to myself: as soon as I finish I call Filoni. Not a minute goes by that the phone rings, I look: it's Filoni !!! Let's talk about our latest experiences, until I ask him if there are any competitions planned. He replies that he was planning one in Austria in Scharnitz from February 19th to 22nd which I could also attend, from that moment my head was in Austria. I was filled with emotions. Only at the end of the call he told me that it was the World WSA. At first I was a bit like that! Confused. But he told me with his genuine tranquility that it would be a nice experience, and most importantly I felt the trust he placed in me. I was very happy. And I was the only team with Alaskan Malamute coming from Italy!!! At the beginning I said nothing to anyone, even with my family I remained vague. Then one evening while I was watching the information about the race on the internet, my father saw and said: "But it's the world championship !!!" I smiled at him. He initially looked at me a bit perplexed, then I replaced my smile with his accomplice and smug smile. I felt in his gaze and in his silence that he was pleased with my choice.


What does the competition consist of?


Francesco: The race consists of three timed heats, one per day, on a 6 km track.


On a bureaucratic and veterinary level, what did you have to do?


Francesco: The documents that I had to prepare were passports, vaccinations books, pedigrees (since this is a competition reserved for purebred dogs), certificates of good health for all three.


What kind of training did you do?


Francesco: Normally I was training my two malamutes every day with the scooter on a 4.5 km route. Then, in anticipation of the race, I extended the route to 7 km, adding climbs and descents to the track.


The best moment and the worst of the competition?


Francesco: Since leaving home, my head was a whirlwind of thoughts and fears: the excitement of participating in a competition of such importance, the fear of disappointing expectations, the fear of not having the perfect command of the English language. There were no bad times, there were a succession of events and everyone gave me emotions. Arriving at the venue and seeing all those vans and campers from all over the world. Meeting all the Antartica Group, with Filoni, his partner Olivia and Giulia. All wonderful people and always ready to give you a hand. It has always been a succession of emotions since the first day when I was assigned the bib number 48. To keep me from missing anything, the Antarctic Group enrolled me in a trophy within the world: the trophy of the nations which consists of fact that each nation chooses 3 mushers and points are awarded based on their order of arrival; the country that accumulates the most points wins. The opening ceremony was fantastic, when all the participants marched through the city divided by country. Concerns, joys and anxieties have gradually followed each other since the first round of the race. When I passed the finish line for the first time I was exhausted, even for my dogs they were very excited, even for them it was the first race and they immediately perceived that it was not the usual ride. I pampered them like never before !! Since then it has always been a crescendo of emotions experienced in an unforgettable and exhilarating experience made so thanks also to the unforgettable help I received from all the Antarctic group that provided me with not only moral support but also valuable indications.


If there were those who helped you, and who would you like to thank?


Francesco: There are so many people I have to thank, starting with my mother who is also the mother of all our puppies, since she gives birth to all of them; My sister Elisa who knows all about her little ones and makes things get done perfectly because she loves them madly and for the help she gave me with the documents. Monica always ready to help me in anything, especially keeping my dogs at the start, then my father, who thanks to his passion and for this wonderful race I was able to have the chance to live this experience. I also wanted to thank Filoni and his family, the Antarctic Group and in particular Luca Quartullo, a friend with incredible tenacity. And finally and not least my friend Mario Vincenzi, for help in preparing the equipment. I think this name Scharnitz will never forget it !!!


What advice would you give to people who are thinking of approaching this sport?


Francesco: What I can recommend is to enjoy as much as possible every moment, from preparation to competitions, without losing sight of the fact that you are part of a pack: you and your Dogs, and we all have to go in the same direction.