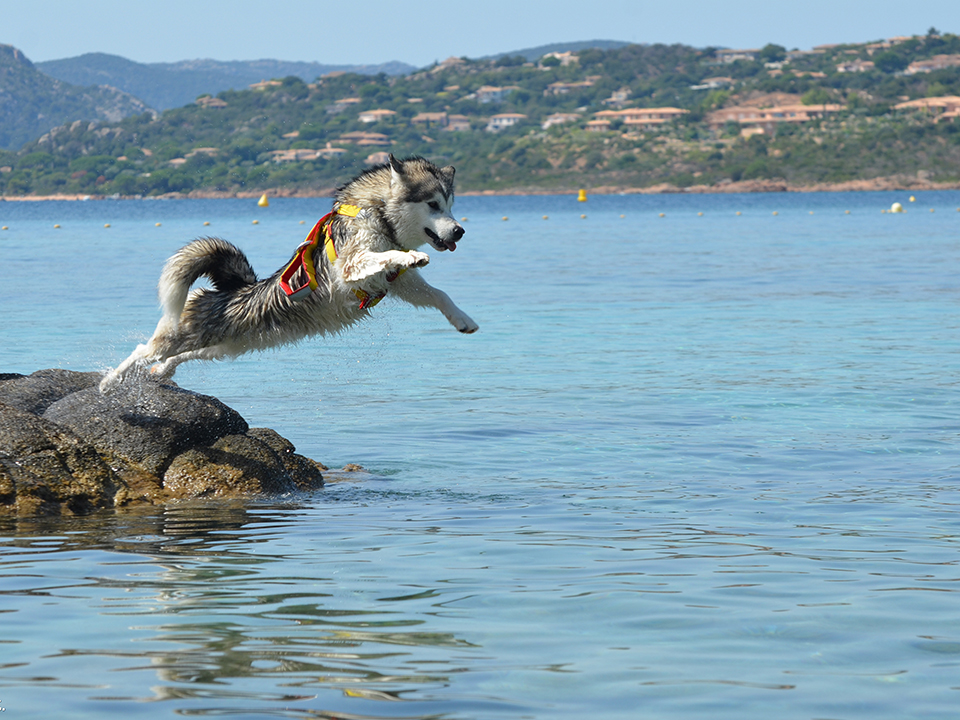 GLORY DAYS DEL BIAGIO "LUNA" & SAILOR DOG TEAM ADVENTURE
Thanks to its ability to adapt in every situation and its strong make up decisions instinct, the Alaskan Malamute manages to approach situations that are outside of its genetic pool and what nature has taught it, leaving an indelible mark on its DNA . So we want to surprise you with another life experience to make you better understand how this breed is extremely versatile.
This is the story of a family that enjoys practicing and teaching the noble practice of water rescue, they are: Sabrina, Edoardo and .... a female of Alaskan Malamute named Gloria Days by Biagio, better known as "Luna".
THE STORY OF GLORY DAYS DEL BIAGIO "LUNA"
of Sabrina Latorraca



My husband Edoardo and I have always had dogs and cats, for us they have always been a source of joy.
In 2001 Luna arrived, a wonderful hybrid father Samoyed and mother Labrador. Right away we realized how much our puppy loved the water and we tried, therefore, an activity to be carried out together in the water ... thus began, in the same year, our journey with her in a rescue school.
A few days before she was one year old, Luna had already passed the various tests and had in effect become a rescue dog; our path has not been completed with the attainment of the patent obtained as a Canine Rescue Unit, but we have continued increasing our preparation and becoming instructors.
We spent wonderful years with Luna, who seemed to pass in a breath, engaged in training, relief and community service activities… She arrived, in fact, in a flash, at the age of 14 when they manifested themselves in a manner sudden problems of pulmonary insufficiency and in two months, our sweet girl, ​​left us. Many years lived almost in symbiosis with a living being that define a dog, in our eyes, is an understatement ... She was a life companion, to whom we dedicated so much love and we received more, in short, it was all ...
Unthinkable and indescribable the desperation of her absence but we wanted to make us strength and after only one week we have matured the decision that we could not really be without a dog: because we still had so much to give and we were ready to receive those emotions that only a dog can transmit .
Our dream has always been to become a life companion of an Alaskan Malamute, but, until that moment, we had never had the chance to take one because on our way there were other dogs that needed us.
Years of experience in training in the field and in life lived with a dog, they had prepared us for the approach with dogs of all breeds, including Alaskan Malamutes, so we decide that the time had come for having such a beautiful, gigant,  elegant dog and like all dogs demanding.
Getting into the car and leaving to go to the biggest Alaskan MalamuteKennels in Fano was a decision made with so much instinct and heart that we didn't even call to inform of our arrival and make an appointment. We told ourselves that if it had been destiny, our puppy would have been there waiting for us at the "Del Biagio Selection Center". Destiny had already foreseen everything ... we were only unaware of what great joy it had reserved for us.
Arrived at the kennels, we immediately breathed a family atmosphere, exquisite people and great sympathy, dogs of disarming beauty, of incredible tranquility, followed and looked after as princes and princesses in their kingdom. Called "bimbiiiiii" by a loving and scrupulous breeder ...
Did our heart find a home after so much pain?
The interview with Giuseppe Biagiotti, the breeder, is difficult because unfortunately he tells us he does not have a puppy for us: ALL ALREADY RESERVED !!! he immediately says, but reading in our eyes the vivid pain of the loss, brings us to a part and tells us "these are puppies of 4/5 months that I kept for myself, I understand your pain, if you want?! choose one ". We enter the large fence and evaluate the puppies a little. We wanted a girl and we could  chosen between three of them but how could we decide for one of them when they were all adorable? We chose the one that at our call (an undefined verse because a name didn't know yet) immediately ran to us, proving to be resourceful and curious, it seemed that she didn't affraid of anything. It was her and it would have been ours.
We spend half a day at the kennels, completing all the formalities for adoption of Luna (because this is how we wanted to call it; for us it is a story that continues, with a white Moon - because white was the mantle of our first Moon - it did not close a book but only a chapter) goes up with us by car to get to Milan. Many kilometers with three stops and she was quiet and calm. He seemed to feel he had all reasons to be at peace now.
After a while, together with a group of passionate people like us, we decide to found a water rescue association, so in  December 2015 we founded Sailor Dog.
We have a dog born for the sledding, born for snow (because this is how it is in the imagination of many) but we told ourselves that those characteristics could have been exploited in the water to save someone, with the carryover of people and boats and that the water was nothing but melted snow ahaahah ... we were not wrong and Luna, like us, loves water, swims calm and happy and has become a very good diver.
Our association is located in a splendid location that is Lake Malaspina, the boss is Elena who, with her boxer named Gastone, participates in our activities; the lake is the location in which we carry out training sessions, basic education and socialization ... also of Humans because dogs are already doing great.
The achievement of the operating patent requires a longer route and the overcoming together with the driver of the required tests: the conductor must have the qualification of lifeguard and the dog receives specific rescue training; while those who simply want to swim in peace with their dog and still know the various techniques and the necessary equipment can, on passing certain tests, obtain the simple sports patent.
We also remember that swimming is not only good for humans but it helps overweight dogs to lose those extra kilograms, improves joint health, helps injured dogs, helps dysplastic dogs because it strengthens muscles, lowers the level of aggression, helps to vent excess energy and have fun, creating a deep bond with the owner.
We with Glory Days Del Biagio - Luna, we won our challenge, compared to those who claimed that the Malamute was a difficult dog to train; we did it every day with commitment and dedication, helped by the correct genetic selection that contributed to our victory, for which we will never cease to thank the whole Biagiotti Family.
We would like to dispel another false myth: that the Malamutes disagree with cats ... Luna lives with Petrella, our cat, they always play together and often sleep together.
"For us the relation between the dog and it's owner is a fundamental thing for every activity."