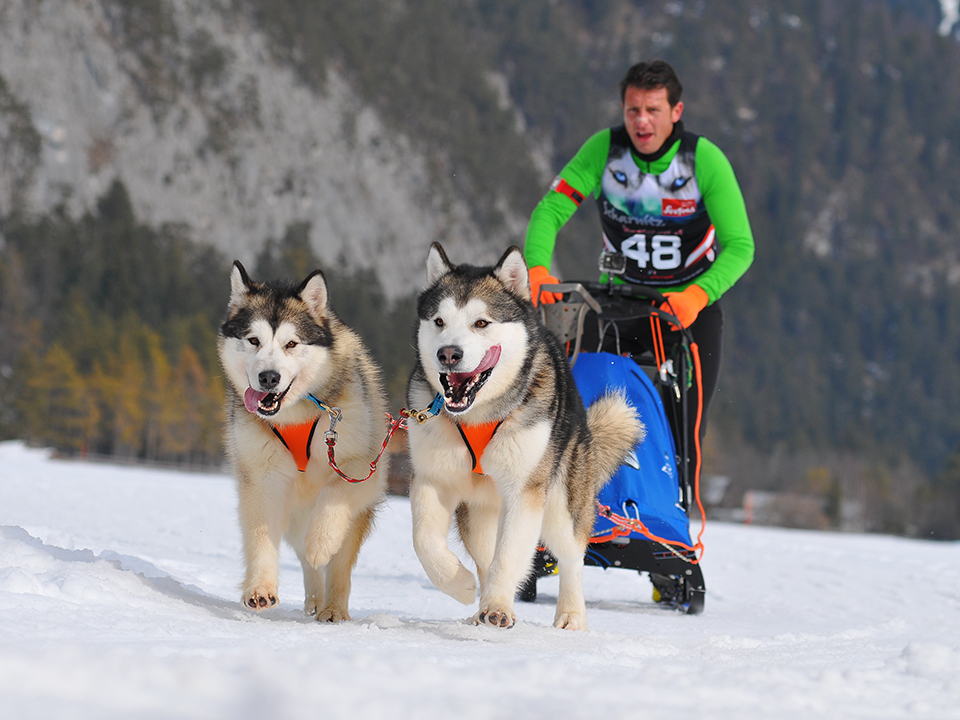 The Alaskan Malamute was originally selected for heavy towing over long distances. Over time, however, it has become very versatile. His psychophysical qualities and temperament are such that in the USA it is also used as a guide dog for the blind.
Its sweetness and its mental balance makes it suitable for pet therapy.
Il malamute is a trotter, his innate ability to be concentrated and having a constant and regular pace for long distance makes him the ideal companion for Dog Trekking, Bike Dog, Sky Joring.
DOG TREKKING


Let's put a harness to our dog, let's connect it with a rope to a padded belt and let's start, with the dog that precedes us, our walk, maybe along a nice trail in the mountains, under the cool shade of fir trees with the scent of the undergrowth that gladdens our senses. You will find that it is really convenient to have someone help us to climb the steep mountain paths, it will be a pleasure for your dog to help you and above all carry out this type of activity in your company. This activity can also be carried out on snow in the winter, using the "bushes" (snowshoes) that will allow us to walk on the snow.
BIKE DOG


Same technique, but increased speed by using the bicycle, preferably a Mountain Bike. With the bicycle it is really beautiful, you start to really feel the natural nature of these wonderful dogs, once you understand how to behave when pooling your bike, we will have to ride very little and we will have a lot of fun spending good times on trails in the open countryside, doing activities with our dog will do both well and will make us download all the stress maybe accumulated in a long and hard day's work.
SKIJORING


For fans of skiing fun is guaranteed and here you will really make your Alaskan Malamute happy. The same technique, we harness the dog and connect it to us using a rope, but this time we are on the snow and we wear skis ... . I Therefore recommend that you practice this sport from a while.
SLEDDOG


Sleddog is a compound word of Anglo-Saxon origin that combines the terms "sled" and "dog". It is therefore a sled pulled on the snow by a pack of dogs, whose number is variable. The conductor of the sled is called "musher" and has adequate experience and preparation, acquired following a lot of practice and a lot of training, which allow this team to travel very long and difficult routes.
I conclude by saying that if your intention is to have a dog that is truly faithful, reliable, that adapts to every situation and has a relationship with a truly unique man, Malamute is the one for you and you always remember, to me like to describe it with a simple sentence:
"It is not a dog that lives for you but with you"